Insomnia60 Round-Up - Champions!
Missed the Copenhagen Games 2017 summary? Catch up with it HERE
The Easter bank holiday is always a fun time for esports, with events happening across all corners of Europe. This year though we were at "just" the 2. The 2nd of which being Insomnia60 at the National Exhibition Centre in Birmingham where our CS:GO team were looking to retain the titles they won at Insomnia59!
UK Masters was the first port of call for the guys on the Friday night (Our 3rd UK Masters final in a row too!) and it was a familiar name in the form of fish123 who'd made it to the final. This time they'd secured the support of Radix (though this would be a completely different lineup to the Radix competing in the Insomnia CS:GO Open) and we started the series with a 1-0 advantage having come through the upper bracket of the online playoff stage.
FMESPORTS 2 - 3 Radix | UK Masters Grand Final
UB Advantage - 1 - 0
de_overpass - 13 - 16
de_cobblestone - 9 - 16
de_mirage - 16 - 1
de_inferno - 10 - 16

Not the ideal start to the Insomnia60 weekend but there was no time to dwell on it as just 12 hours later, the Insomnia60 CS:GO Open elimination stage was set to start!
---
Having skipped the group stages to go straight into the elimination bracket, our tournament run looked as follows:
FMESPORTS 2 - 0 Dragon Esports | UB RO16

FMESPORTS 2 - 0 Crident | UB Quarter Final

FMESPORTS 2 - 1 Radix | UB Semi Final

FMESPORTS 2 - 0 Dog Gaming | UB Final

Elsewhere in the tournament whilst we waited for our opponents in the Grand Final, Radix dropped 2-0 to Crident who in turn lost 2-1 to Dog Gaming in the Consolidation Final to set up an FMESPORTS vs Dog Gaming rematch.
FMESPORTS 3 - 0 Dog Gaming | Insomnia60 CS:GO Open Grand Final
UB Advantage - 1 - 0
de_overpass - 19 - 17
de_cobblestone - 16 - 13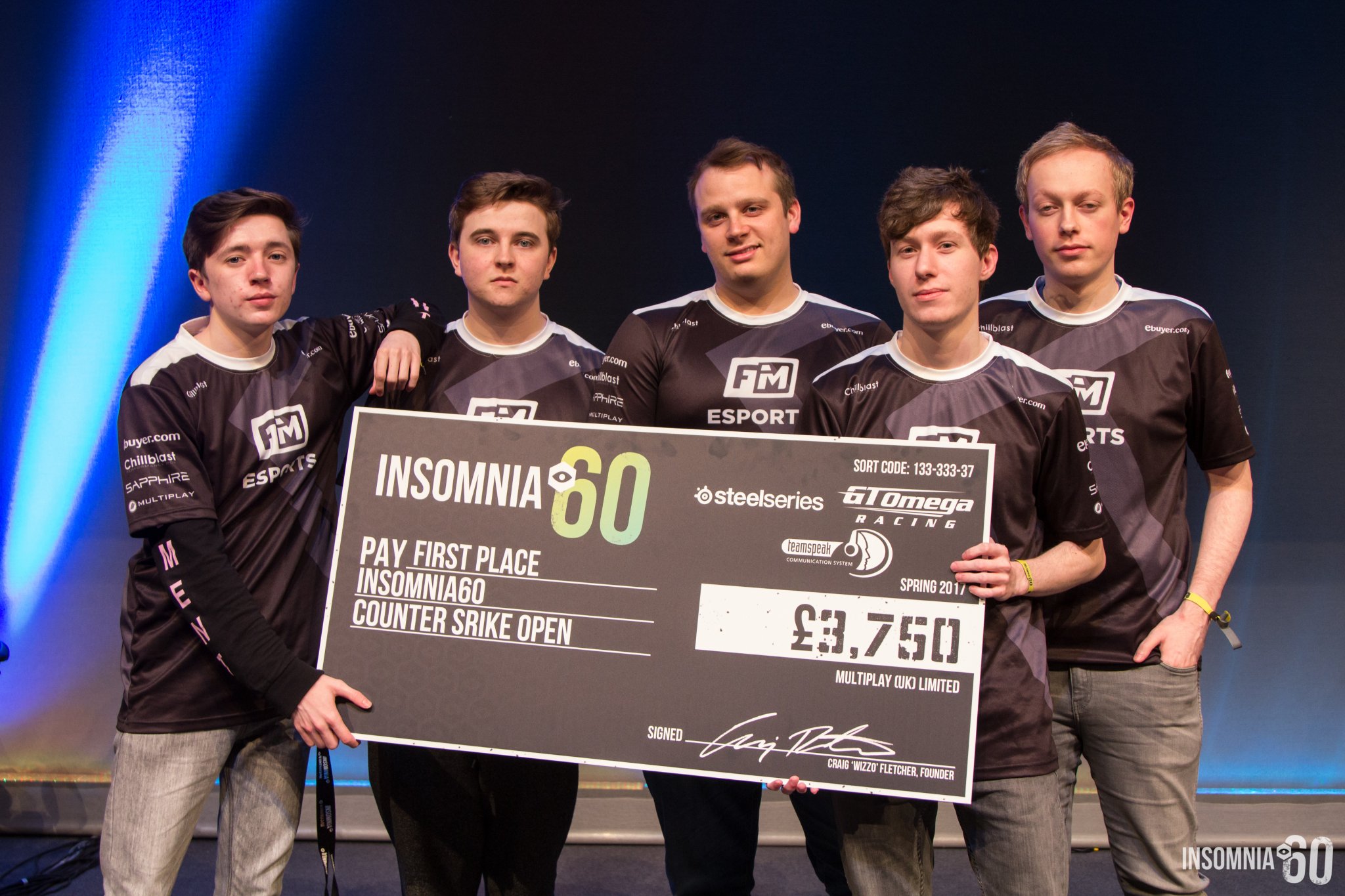 Photo: Multiplay/David Portass/iEventMedia
And with that, FMESPORTS CS:GO retain their Insomnia CS:GO Open title and finish the weekend with a 2nd and 1st place in UK Masters and Insomnia60 respectively. A tough weekend ending with a hard fought 3-0 against an unexpected (going into the tournament, at least!) opponent in Dog Gaming means we need to keep on our toes, especially with a rematch against Radix coming up in the ESEA UK Open Playoff Semi-Finals next week. Make sure you stay tuned to our social media platforms to be kept up to date with streams and information on this as it gets closer.
As a final note, we'd like to extend a massive thank you to our sponsor, Chillblast for providing us with some kick-ass FM branded PCs/monitors for the event. Without them (and the rest of our partners, Ebuyer, Multiplay and Sapphire of course!) these events would be a lot more complicated!